Muse
Adress: 17141 Collins Avenue, Sunny Isles Beach, FL 33160
Developer: S2 Development; Property Markets Group
ARCHITECT: Sieger Suarez Architectural Partnership
FLOORS: 47
NUMBER OF UNITS: 68 Units
PRICING: From $2,200,000
The Muse condo is coming to the Sunny Isles Beach in the year 2017. It will be representative of exquisite and luxurious lifestyle of South Florida, a true architectural marvel. Muse will be a slim 649-foot high tower structure, just 60-feet wide, developed by a world-famous architect Carlos Ott. The structure will accommodate truly unique architectural design with a slight touch of futuristic elegancy. Every small detail of the Muse will be distinctive of its style, original and inspired. The tower will include 68 luxurious residences with spectacular panoramic vistas of the sparkling ocean waters, the Intracostal Waterway and city skyline, featuring the top notch amenities and services for the residents.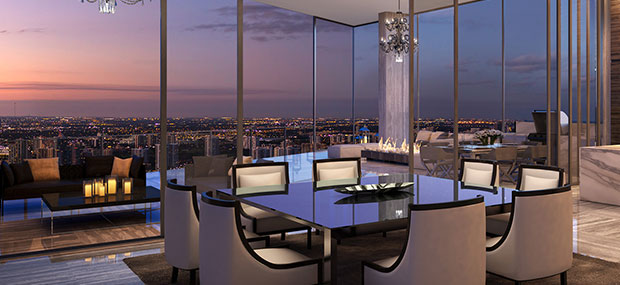 All units will be very expansive, starting from 2,360 sq. ft. two-bedroom apartments up to five-bedroom units sized at 5,5800 sq. ft., with maximum of two apartments per level, one located on the eastern side and one on the western. The top two levels will contain 2 fabulous spacious penthouses featuring five bedrooms, 4 1/2 bathrooms, a den and service suite making up over 5,800 sq. ft. of space each. Each home will include a sculpture by a famous world-renowned artist Helidon Xhixha.
The average price for the residential units in the Muse condo shall be about $1,300 per sq. ft. Lower levels will average at $1,000 per sq. ft. and upper ones about $2,000 per sq. ft. The tower will allow buyers to make reservations soon. Muse is a place where future shall be always within your grasp. Let me Muse amuse you.